Rental Management in Clermont l'Hérault and Montpellier
---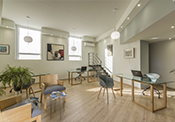 Manage your high-end apartment or house in Montpellier
We offer you our Rental Management services in Clermont l'Hérault, Montpellier and beyond in Hérault.
Specializing in exceptional properties, the Galerie Casanova agency's team is fully conversant with the specificities of high-end property clients. This is why we are now developing this service in order to offer you ever more comfort in the management of your property.
We relieve you of all administrative and legal tasks, and we are available to your tenants.
Find a tenant for your prestigious home
If you are thinking of renting out your high-end property, we can also find your future tenant. Unlike a "standard" real estate rental, atypical houses and apartments require rental management with more monitoring because the clientele is more demanding. If you want to rent out your house, apartment or property in Clermont l'Hérault or Montpellier. Please do not hesitate to contact us using the form below.
Quality of the advertisement of your property during the rental is essential, we take pictures for you, write the advertisement, and distribute it on various real estate portals and our website.
Do not hesitate to contact us for an estimate of the monthly rental amount of your property.
At your service since 1979
Established in the city center of Montpellier since 1979, our agency is at your service, over an extended geographical area, to offer you rental management adapted to your needs:
Establishment of the management mandate
Setting up the tenant
Drafting of leases
Rent collection
Accountability
Help with the declaration of property income
Regularization of charges and collection of household waste
Maintenance and work monitoring
Real estate diagnostics
Owner information
We also offer subscription to unpaid rent and rental damage insurance.